Linux Only Web Hosting
Dark French Host offers a complete range of Hosting, Webmail, and DNS services. By exclusively using Linux as our operating system of choice DFH provides stable servers with unsurpassed uptime and reliability.
Managing Your Email in Virtualmin
The following video tutorial should help you get your email accounts configured quickly.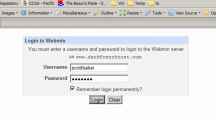 Apache is the most widely used web serving software in the world. Being open source it has developed into a versatile, dependable web server providing interoperability with PHP, MySQL, Perl, and many many others.
These are just some of the reasons that DFH used Apache. At DFH we believe that nothing is more important than ease of use and understanding for our customers. That is why we use Virtualmin as our server user interface of choice. They make administering your site, e-mail, and web logs simple and easy. If you don´t see a package that fits your requirements in our services section then
contact us
!
We are more than happy to work with you to find a solution that both fits your needs and budget. Try us out and see how DFH can provide reliable and affordable
web hosting services
for you and/or your business.